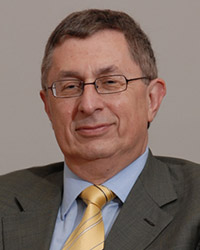 Professor of International Management Development
Cranfield School of Management, UK
Andrew Kakabadse is Professor of International Management Development at Cranfield School of Management. He has acted as Visiting Professor at a number of US, Australian and Chinese universities. From 2005-2006 Andrew was the H. Smith Richardson Fellow at the Centre for Creative Leadership, North Carolina, USA. Andrew is Visiting Professor at the University of Ulster, Ireland; Macquarie Graduate School of Management, Australia; Thunderbird School of Global Management, USA; University Pantheon-Assas Pars II, France; Swinburne University of Technology, Australia. His areas of research cover boards and top teams, the governance of enterprises and the governance of governments, international relations and conflict resolution. He has published 37 books, over 210 articles and 18 monographs. Andrew has consulted and lectured in the UK, Europe, USA, SE Asia, China, Japan, Russia, Georgia, the Gulf States and Australia. He was also Vice Chancellor of the International Academy of Management and was Chairman of the Division of Occupational Psychology, British Psychological Society, 2001. He held positions on the boards of a number of companies. Andrew is co-editor of the Journal of Management Development and of Corporate Governance, The International Journal of Business is Society. Andrew sits on the editorial board of the Leadership and Organization Development Journal, Thunderbird International Business Review and The International Journal of Management Practice. He has also been adviser to a Channel 4 business series.